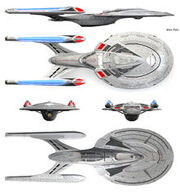 After a  run in with Starfleet Takota met  Admiral Thomas of Starfleet, both became friends an signed a friendship treay making Trussia and Startfleet allies and friends.  Both focus on spreading Peace and Justice through out thier galaxies as well as using thier formidable Navies to combat enemies.
The Starfleet base is highly equiped and high tech,  IT was built by Bio Tech Industires and the Starfleet agents were given free rein of how to equip the base to their need under Trussian supervision.  The Base host many amenties for relaxation such as Pools, Saunnas, and Gardens.  Their is also an Hospital and a training academy on base.  The Trussian Republican Air Force also built them a Dock yard and air field so Starfleet can repair and refuel their ships in a safe area as well. 
Location
Edit
The Base under the Trussian Constitution is classified as an Embassy so the Base is sett on Embassy Avenue along with other Embassies witch leads to the Diplomatic Tower where all friends and allies can meet.
Ad blocker interference detected!
Wikia is a free-to-use site that makes money from advertising. We have a modified experience for viewers using ad blockers

Wikia is not accessible if you've made further modifications. Remove the custom ad blocker rule(s) and the page will load as expected.